Inscription by inscription holder
Transparent rocker sets and inscription spaces can be equipped with inscription holders. The inscription is printed on transparent inscriptions labels that can have background illumination. The labels are non-fading, wrinkle-free, and weather-resistant. The size is optimally adapted to the product in question and can easily be inserted into it. Orders from within Germany will be dispatched by freepost. Alternatively, you can print your inscription yourself.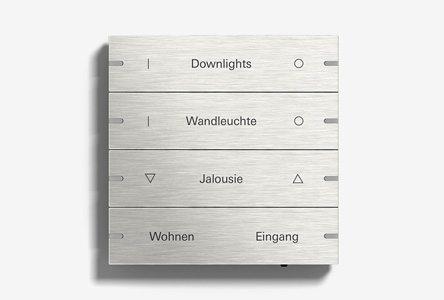 Laser inscription
For all-metal and full-surface plastic rockers, e.g. on Gira push button sensors, you have the option of adding your inscription directly to the material using laser technology. Laser inscriptions are not sent by post, but are rather issued by your Gira contractual partner. You must be registered and logged in to create your individual design. Once you have completed your design, you will receive an individual configuration number. Please provide this to your Gira contractual partner to place your order.